Whoah.
I guess I got everything done in one fell swoop.
I've been meaning to get a blog button for a while, and now it's on the left hand side underneath my followers gadget.I have conquered the HTML part and survived! (Haha, it took me a while to figure it out.)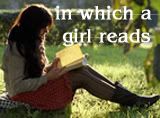 I'll be adding a blog button slideshow as soon as I can get to it, let me know if you want to be included.
And also, follow me on twitter! Thanks to everyone who commented on my slightly dazed blog post a few days ago, you've convinced me to give twitter a try. I think this is the link to my profile:
http://twitter.com/inwhichagirl
Anyways, I'm feeling alone in the twitter world so I will try to find you guys, but if you'd like me to follow you just post the link in the comments or something.
*is a complete twitter ignoramus*
Okay. *breathes deep* Twitter. Blog button.
I can handle all these newfangled shiny things, I can, I can
.